After much anxiety, cold sweat and sleepless nights, the day of departure arrives.
All my stuff is packed into my Ortlieb Panniers (thanks to www.probiking.com again for the sponsoring) and attached into a single big, massive, plastic-wrapped bundle I can barely lift.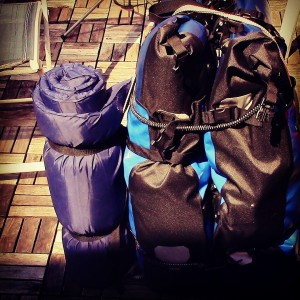 I skip the 1954 version of Around the world in 80 days in the video selection (that's professionalism for you)…
Instead I watch a documentary about two guys who want to direct. in order to do so, they decide to help a Rock Band break through so they can shoot a movie about them. About as straightforward and crazy an approach as setting out on a 3800 miles bicycle trip across the US in order to make music. In the end the band turns out not to be too shabby (they are called the Who) and everything's grand except one of the guys gets strung out on drugs, goes crazy and dies and the other never actually gets to take part in the movie that is eventually made (something called Tommy)
The other documentary I watch is called "Merchants of doubt". A scary thing to watch, though it explains a lot. For my thoughts and opinions on this and other documentaries, go to the "Private Note" Section, TPN 3.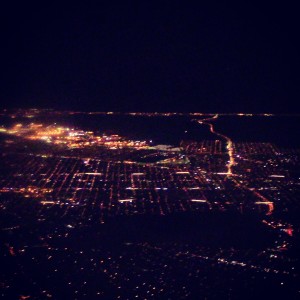 In Philadelphia, secondary examination from customs, a couple of hours of waiting, the complete examination of all of my luggage (remember the carefully bundled Panniers?) and an hour-long interview.
Have to tell the lady repeatedly that I am not a homeless person (despite the tent) and that I am not planning anything dodgy (despite the beard). Feeling like I'm back where I left off, with America tossing me about and senseless, I spend a rather terrible night/morning in a shitty Brooklyn Youth Hostel.
But then it turns out that the person I contacted on Warmshowers (Couchsurfing for cyclists) is an incredible person, a very friendly human being, a composer, who puts me up in his 8th floor Manhattan apartment for seven days.
Morning runs along the car-free Park Avenue and Central Park, relaxed shopping expeditions to purchase the last of my items and general carelessness almost make the cynic in me lose sight of the artificiality of it all.
On the menu: Central Park, Times Square, Empire State Building and Central station, but also more personal: Chelsea Hotel, Dakota Building and Highline.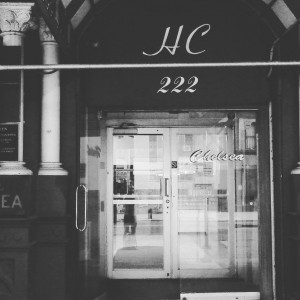 Unfortunately Rob (Fraboni) had an accident, so we won't be rerecording the cover version of "Like a Rolling Stone"…
But I'm not sure I can better this version recorded at AnrdomiDen Studio, Passadena anyway, and Rob is well, so that's the most important…
And with a SOFAR concert to top it all off, I can't complain, that's as good a start as I could hope for.