7 glorious days within walking distance of Central Park, the Empire State Building and Times Square, but I am itching to get going. After much hesitation, false hope and wavering I finally get the bike and am ready to set out. When I finish packing my stuff on it, it is so heavy I can barely lift it an inch and the first tentative pedal strokes feel like wading through solid apprehension. I won't talk about the bike itself too much cause I feel there will come a day when I will rue my miserly tightfistedness and I want plausible deniability. Suffice it to say, I didn't go for the high-end model, and whatever material woes will befall me I will have to bear with stoic resignation, you get what you pay for and pay for what you get yourself into.
So first destination Summit, New Jersey, a bare 30 kilometers and a ferry-ride away. Except I want to swing by the Gaslight before leaving (the Cafe where Dylan started off, remember Llewyn Davis). In the excitement of that and my finally leaving, I miss the Lincoln Bridge and the ferry and have to do a 40 kilometer detour to cross the Hudson River via Washington Bridge. The first climb I have to get off my bike, the steering wheel is wobbling like a religious fanatic from Kentucky.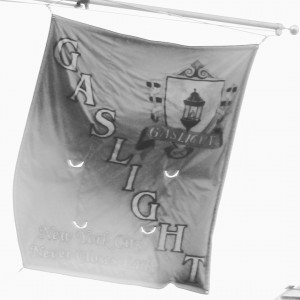 I'd like to say that crossing on such a massive bridge is something worth doing an extra 40k and romanticize the thing, but I have three other Bridges to cross to get to Newark. With a cycling lane so narrow it catches my panniers and sends me crashing to the ground, things are looking good. Especially since coming off the bridge I somehow manage to get myself on the tollway towards the Highway and an overwhelming sense of WTF. Riding in the wrong direction, lifting my bike over the railings at one point (apparently with the extra adrenaline coming from massive 16-ton trucks whizzing by, it can be lifted ) I manage to somehow get back on track. By that time it's nightfall, and I'm still only in Newark, and Newark is not a very comforting place to be in at nightfall. But the summit has to be climbed, so climb I did till I came to it (Summit the town, I'm polysementizing here).
What I have learnt from this first day? That for this trip, if things go bad, there will be literally no shoulder left to cry on…