So as I mentioned before I was going through a bit of a turbulent time in my head. I'd just missed a concert in Oklahoma City by a hair, my repeated flats were tiring (!!!) me out and I had a general weariness coming up. I was reading The Alchemist by Paulo Coelho at that moment, and after two weeks of rather blissful cycling I might have read a little too much into it. For after triggering a brief initial round of excitement the novel proved to be rather limited in scope and quality. And my newfound optimism and faith in the workings of fate remained fragile. The shadow of my previous American experience and it's harshness was still menacingly looming and I hadn't yet shed the fear of a disastrous event that would put an end to this trip. But I was working on it, and confident that I could make this the last bout of anxiousness of the trip.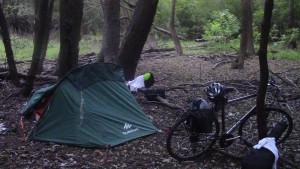 Song of the day: The End – The Doors
A perfect illustration not only of the state of mind I was in at that moment, but also of my aforementioned previous trip to the US. A disturbing, jarring piece of  music. Like a bout of dizziness, interesting in nature but unpleasant to experience. Not my favourite track by far, but one that might be as indispensible as suffering is to a growing soul.