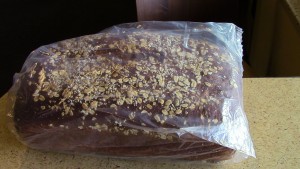 I am to be staying at Daniel's, the guy who gave me a lift to the Gas Station the day before and who lives in Albuquerque. He is working late though, so I wait in a Panera, my new favourite Fast-Food, cause it's got all the perks (internet, restrooms and the lot) and specializes in Bread which is my favourite food and a rare commodity in the US.
The manager is so impressed with my trip she gives me a loaf of bread (the one I had been wanting for some time but never went for cause it's dead expensive), soup and dinner.
It might seem like little, but it's the kind of things that make me insanely happy.
Song of the Day: Take this Bread – Felice Brothers
And I'm even happier to have the opportunity to talk about an underrated contemporary band. If you have a chance, listen to some of their other songs, notably "Frankie's Gun" et "Greatest Show on Earth".