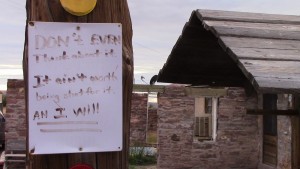 Once the mud and traces of my latest misadventure have been hosed away I need to find a spot for the night. Seeing the sign at the entrance I feel like I might not be in the most welcoming of American small towns, but the mexican family who lives there turns out to be nice. There's an abandoned house that belongs to their cousin and they tell me I can pitch my tent in the backyard.
The neighbour's dogs are barking all night, but I'm too tired to care. Win some, lose some.
Song of the Day: Home – Edward Sharpe and the Magnetic Zeros
My favourite contemporary band. So many songs and albums and live performances to choose from, I put the most obvious and easy song there.
I think the documentary Big Easy Express was one of the decisive elements that made me want to go through with my own trip.
They feature alongside Mumford and Sons and Old Crow Medicine Show in a train-journey from California to New Orleans. Adventure, jamming and concerts, all I've ever wanted from music and I'll keep fighting to get.