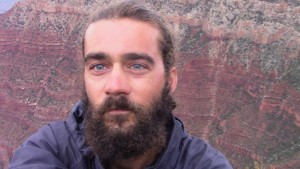 Andy told me I really had to check out the Grand Canyon, which is a 200 km detour from where I was. I decide to go for it and find myself going North for once, which is strange, I had gotten used to ending my days going towards the sinking sun.
Along the way things get touristy and I am not expecting much. I grudgingly pay the 15$ to get in and make my way to the South Rim. It's 6 pm, I'm tired, and I'm even considering taking a glimpse and then heading off straightaway (I don't want to pay for a camping ground).
And then I get to the rim, and I am absolutely stunned by it. No fences, you can go to the very edge, a breathtaking view, probably the most impressive natural setting I have come across (and South-America isn't too shabby in terms of grandiose settings).
I decide to be cheeky and pitch my tent close to the rim (which is obviously forbidden) and catch the sunrise the next morning.
Song of the day : Grand Canyon Trail – Roy Rogers