So this first week didn't exactly go smoothly.
Despite the excellent conditions I found myself in in New York (thanks to Kamel and warmshowers) I did have quite a few obstacles to overcome.
Not helped by my natural tendency to go and get myself into difficult situations (toll roads, floods, shitty bikes) I do think with hindsight that things could have gone much worse.
All in all I cannot complain, I can keep up physically, and should be able to adjust the details (GPS, gear, personal idiocy)
Now we'll have to see for the musical side of things, because it is also and foremost a musical project. It turns out to be quite difficult to fit in collaborations when cycling an average of 90 kilometers a day, and the few I have done, as well as some musical goodies I prepared, will have to be edited before you can see them.
But, luckily I was a little ahead musically before leaving, so every week there will be a musical score. The first one is here:
Like a Rolling Stone (Bob Dylan Cover)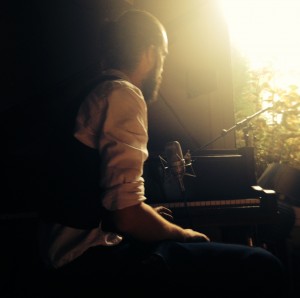 It is not like me to read too much into covers, except if it's "With a Little help from my Friends" by Joe Cocker, "Your Song" by Billy Paul or "Candy Says" by Anthony and the Johnsons. (Yes, I am aware I left out "Hallellujah", "My Way", "Hurt" and quite a few more, we can discuss it if you feel like it) 🙂
Despite it being a cover, this song means a lot to me. The lyrics of course and because it is the first Dylan song I ever heard (talk about a musical right hook to the left ear followed by an uppercut to the other side…wtf is this organ intro? this voice? the randomness of phrasing? I needed to listen to it three times to get anything of what was happening)
But foremost, this cover means a lot because when I recorded it at AndromiDen studio in L.A, I'd just been through an emotional roller-coaster, hit rock-bottom more times than I can think and had just gotten over myself for the sake of the recordings. And after a tiresome day of recording vocals, knackered and emotionally wired, I just stumbled across this particular interpretation. We decided straight away to record it, with just a joint, two mics and three takes.
I don't think I have ever reached such a degree of honesty in a studio. When we tried to re-record it a couple of days later, better rested, well-equipped etc, I couldn't summon any of the emotion I had felt and was unable to replicate the state of complete self-abandonment that I felt while recording this version.